We walked the two blocks from our AirBnB guestroom to Denver's Washington Park with great childlike anticipation.  Wash Park as it is referred to by locals did not disappoint!  Our first view of the park occurred right where Earl and Ethel took their two pictures.  The boathouse which appeared only as a shadow in their black and white picture, now shines after its renovation.  It is another place that they visited now on the National Register of Historic Places.  See the "Colorado" tab for more details.
Washington Park put us to mind of New York's Central Park.  It is much larger than the maps would have you think it is! The area has lakes, formal gardens, playgrounds and massive open lawns.  A 2½ circular bike/hike/walk path surrounds the perimeter.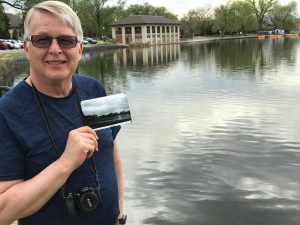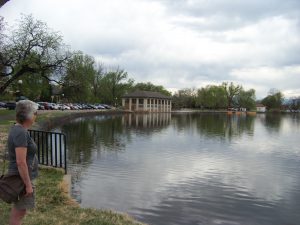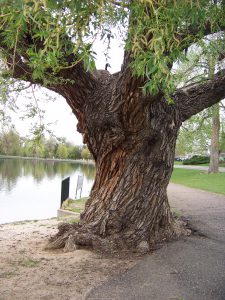 Also saw a Canada goose sitting on a nest in a tree!
We spent a relaxing first night southeast of Denver as guests of Carl's cousin Kay and husband Jim. Kay is the niece of Ethel, the daughter of Ethel's brother George.   We spent hours catching up, talking about our trip, their planned one and sharing laughs about how genetics passes on many some unmistakable physical traits.