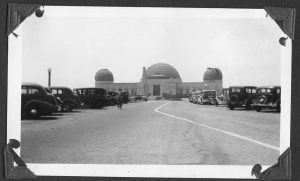 The couple traveled on to Los Angeles but the above photo was their only record of being there! The Griffith Observatory opened in 1935 two years before their arrival. Its location offers a commanding view of Los Angeles including downtown LA, Hollywood, and the Pacific Ocean still today. The site is not far from the famous HOLLYWOOD sign, only in 1937 the sign read HOLLYWOODLAND!  The Griffith and grounds have appeared in numerous movies and TV shows including the knife fight in Rebel Without a Cause (1955) and most recently a romantic dance scene in the planetarium in La La Land (2016).  It was closed in 2002 for an extensive 4-year $94 million renovation before reopening again in 2006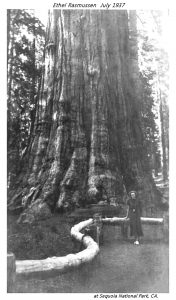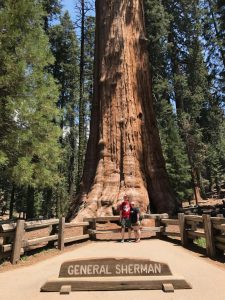 Their album had photos of large trees but no indication where they were.  Then a web search of vintage Sequoia & Redwood photos provided a 1930's postcard with just the clue needed! The couple were in Sequoia National Park in the Giant Forest at the foot of the General Sherman Tree! In 2017 their grandson Erin and wife Val got into the spirit of their adventure and re-created the photo of Ethel 80 years later!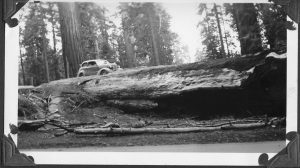 A fallen Sequoia became a popular attraction called the "Auto Log." It was created in 1917 when the first director of the National Park Service converted the giant log into a photo stop to amuse tourists and those back home.  Yes, that's Ethel peaking out from behind their Chevy!  Vehicles are no longer permitted to drive on the log.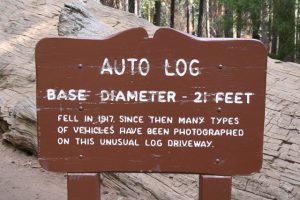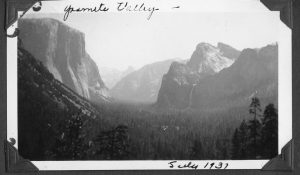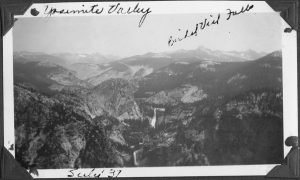 Traveling north to Yosemite National Park, Earl and Ethel took multiple photos of beautiful Bridal Veil Falls  –  so appropriate for a couple on their honeymoon! Yosemite was 3340 highway miles from Oconto, Wisconsin.  Earl and Ethel were just beyond the halfway point of their 6500 mile honeymoon trip on day 15!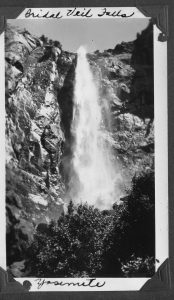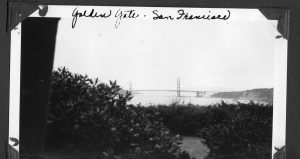 The Golden Gate Bridge first opened to traffic on May 28, 1937.  Earl and Ethel visited San Francisco and took this photo of the new bridge from the bay side less than two months after it opened! The screen capture below is of a pedestrian day ticket that commemorated the 1937 May 27 opening. Like Los Angeles only one photo was taken in San Francisco!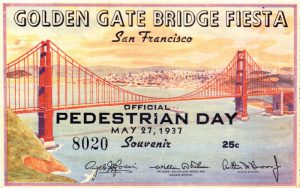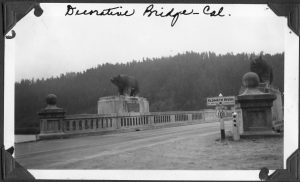 The above photo records the couple's travel to far north California and the route they took.  Ethel describes the photo as "Decorative Bridge–Cal." The sign shows the bridge as crossing the Klamath River and the road as US Hwy 101.  The bridge was about 40 miles from the Oregon border!  Web searches of other photos of "Douglas Bridge" as it was named, give a sense of the spectacular scale of the decorative bears that graced it. The bridge was built in 1926 but was destroyed during a massive flood in December 1964. Only the west entrance that the couple photographed in 1937 remains today as seen on the Google Street View screen capture below and this embedded link. A small testimony to past glory!