Tuesday June 19 – When reports of predicted 6-10 inches of rain, high winds, and power outages in central Wisconsin arrived last weekend, we decided to break off our planned stop in Chippewa Falls, WI and head back to Stevens Point.  Earl and Ethel stopped in Chippewa Falls to visit Earl's sister Alice and family on their final leg home. We had not made connections with the current owners of Alice's former house on Canal Street for a picture. Knocking on the door at this stage in our trip seemed something better to leave for another day.  Adding concern, the weather reports for Chippewa Falls were even worse!
We arrived home late Tuesday afternoon seven weeks after leaving on this adventure.  We found everything safe and sound. Our concerns had been for naught.
Following the honeymoon trip that Earl and Ethel Rasmussen took 81 years ago, brought us through fifteen states and six major cities with visits to 16 National Parks and Monuments.  We traveled a total of 8400 miles, enough to cross the United States 2½ times!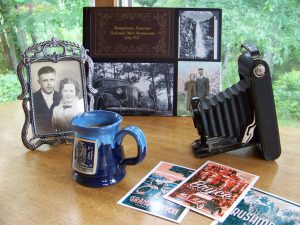 Thank-you for your interest in our Sentimental Journey of rediscovery. It was great to share it with you and, even greater to experience it!
Safe travels,
Carl and Lynn
* Our plans are to leave this website available for the next year, so if you want visit again or share the site, please do.  Maybe you'll want to take your own sentimental journey.