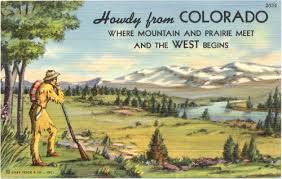 They arrived from Wyoming probably along highway 86.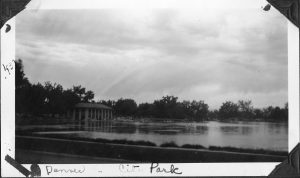 A simple lake photo in a park captured what is now a highly regarded place in American landscape architecture. (Think of Grant Park in Chicago; Central Park in New York; the National Mall in Washington DC.) Located in south central Denver, Washington Park was created in 1908 and is a treasured oasis in a state abundant in natural beauty. The two-story structure at the left of their photo was constructed in 1913. It provided boat storage in the lower level and an open pavilion for large gatherings in the upper  (a popular place for weddings even today!) The boathouse received an extensive renovation in 2012. The park, boathouse, and surrounding neighborhood are now listed on the National Register of Historical Places.
They traveled west to Golden Colorado to the top of Lookout Mountain which is the site of the Buffalo Bill Cody Museum and his grave site.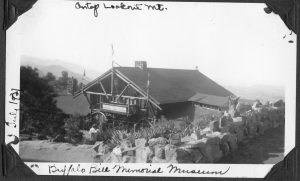 From there they continued west to Idaho Springs, CO where they toured an active gold mine.  Star Tunnel Mine is located near Idaho Springs, a historic mining area 30 miles west of Denver just off Hwy 103.  Records show the mine produced gold, silver, and other minerals and was "open to visitors" during this period.  The mine is currently closed and under the supervision of the US Bureau of Land Management.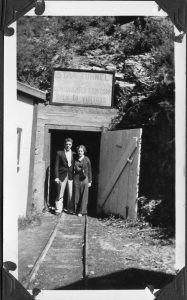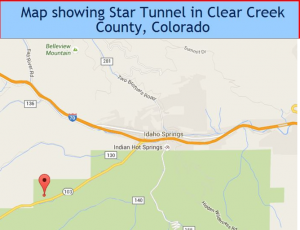 Traveling west of Idaho Spring they pulled over to capture a photo of the "Snow Capped Rocky Mountains"  This photo is used as the backdrop to our "Honeymoon Take Two" website!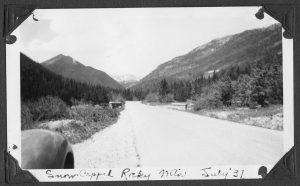 The same photo shot today from Google Street View.  (Scroll back just a bit for the full effect!)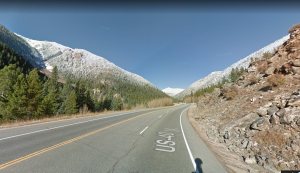 The road was moved significantly to the north (right) side of their picture when the interstate road (I-70) was constructed, the angles are different, but the profiles of the mountains are still the same!
Their route on Highway 40 to Salt Lake City was further confirmed by this side-by-side comparison of a Google Street View of Byers Canyon just west of Hot Sulphur Springs, CO.  The Highway there shares the Colorado River with a railroad all running through an narrow canyon.