From Oconto, WI to Colorado, this tab takes us from their hometown of Oconto, to Waukegan IL where they were married, to Rockford IL where they spent their first night and then, on to the first leg of their trip out west.
After their honeymoon return, this house at 1004 Superior Ave, Oconto would become their new home.  Earl was already living at the house and ran his publication "The Daily Reminder" out of this location.  The house still stands today.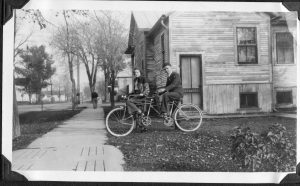 Ethel's childhood home at the time of their marriage was at the corner of Collins Ave and 4th Street on Oconto's south side.  The house still stands at that location today.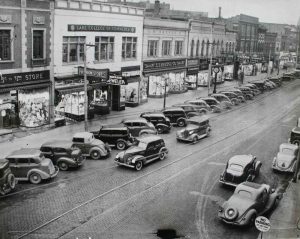 Earl and Ethel  were married in Waukegan, IL the first city south of the Wisconsin border.  This 1939 photo of a very vibrant downtown was taken by a local newspaper. The scene would have looked very  similar the year of their marriage.
The marriage was performed by the Reverend August Bartz, pastor of the Immanuel Lutheran Church which at the time was located at 100 Chapel Street seen here in 2012.  The church is now the home of Latin Pentecostal Church of God.  Earl's Daily Reminder workers covered the marriage July 1, 1937 at this link.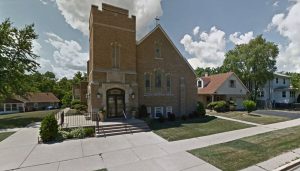 The first photo in their album is dated July 1, 1937. Very likely the couple spent their first honeymoon night in the East Side Inn of Rockford IL after driving from Waukegan IL about 100 miles. The structure was originally built in 1889 as a YMCA and converted to a 60-room hotel in 1909. The building is now referred to as the "Old YMCA" and is listed on the National Registry of Historic Places. The 2nd photo is one that this blogger took in 2016. In 1937 the hotel was located directly on US Highway 20.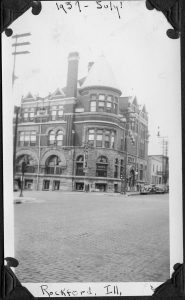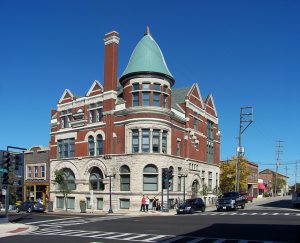 The newlyweds likely continued west on US 20 through both northern Iowa and Nebraska before turning south to Denver in Wyoming.