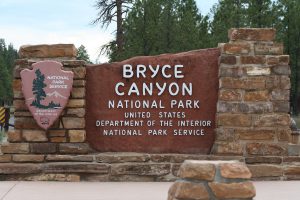 We are excited to share that we've been invited to present our Sentimental Journey talk at Bryce National Park! The talk will Sunday evening May 20.
The opportunity came up when Carl was exchanging emails with the Bryce Park Service staff trying to identify the location where the picture of Ethel was taken.  We knew the photo was taken at Bryce, but just not where.  Carl explained our trip and that we'd be willing to share the presentation we have about it as a possible alternate "campfire talk" with other park visitors.  After exchanging some additional info and our travel blog, an invite was extended!
The very knowledgeable and helpful NPS staff were able to confirm that the photo was taken at Rainbow Point at the far south end of Park Road! This made us very happy.  Looking forward to our visit at Bryce on May 19 and 20.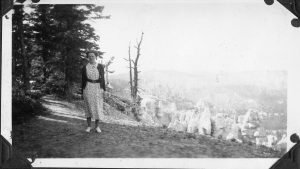 Ethel at Rainbow Point, Bryce Canyon 1937