May 11, day 10 – There was no photo record of Earl and Ethel visiting Dinosaur National Monument, but we did, and took a number of photos too! The park is just off their route and there was certainly enough buzz about the place to call for a look.  In the early 1900's the excavation of dinosaur bones in this small corner of northeast Utah became the source for a number high caliber museum displays in New York, Pittsburgh, the Smithsonian and in Europe.  While the displays brought dinosaurs up close to large population centers, and each discovery generated new headlines, it was the vision of Earl Douglass, the paleontologist in charge, to preserve a portion of the site with the bones exposed in the location where they had laid for 150 million years.  Roughly a quarter of the "quarry" was thus preserved and became the initial 80-acre Dinosaur National Monument.  The Monument was later expanded to 200,000 acres to include natural areas along the Yampa and Green Rivers and areas with 1,000-year-old Native American petroglyphs.
We loved the mural displays of the dinosaurs sporting very colorful markings.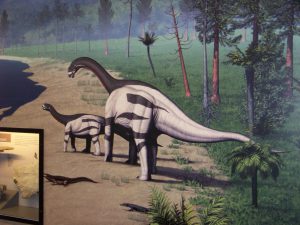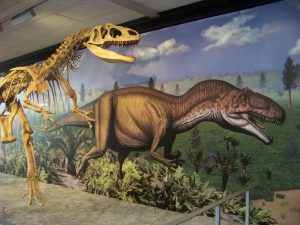 We went for the dinosaurs, but the petroglyphs became our favorites!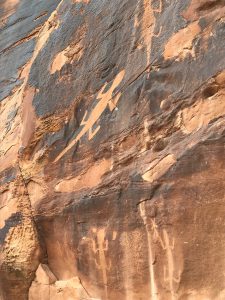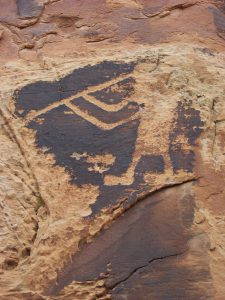 The park also includes the cabin of Josie Morris who settled in the area in 1914 and lived "a solitary 19th century lifestyle well into the 20th century" when she died at age 89 in 1964.  She was an alleged associate of Butch Cassidy and the Hole in the Wall Gang.