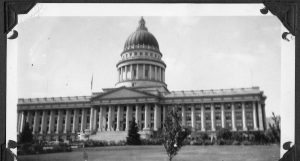 Completed in 1916 Utah's Capitol in Salt Lake City Utah received a major restoration in 2004. It is now on the National Register of Historic Places.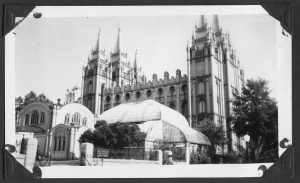 The LDS (Mormon) Temple is readily recognizable but the buildings in the foreground could not be found in vintage image searches. A  postcard from the late 1930's helped confirm these structures that were later removed.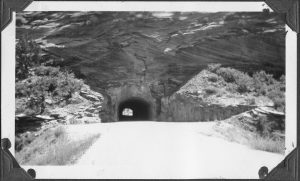 Almost everyone that visits Zion National Park experiences the Zion-Mt. Carmel Hwy connecting the park's east and south entrances.  Two tunnels were built in the early 1900's by blasting through sandstone.  The tunnel they photographed above is called "the short tunnel."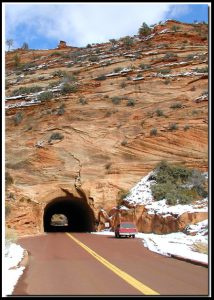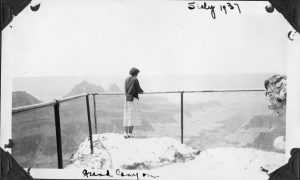 Ethel stands at Bright Angel Point overlooking Roaring Springs Canyon.  Earl and Ethel had five pictures of the Grand Canyon, all from the North Rim.  Bright Angel Point is about a quarter-mile, flat walk from the Grand Canyon North Rim Lodge.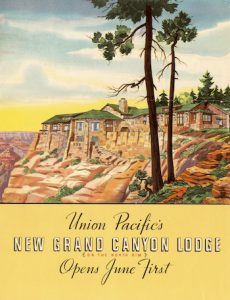 The original two-story North Rim Lodge was completed in 1928, but burnt beyond repair in 1932. A scaled down one-story lodge was constructed on the original foundation and reopened in June 1937 just a month before the couple arrived! Its main entrance is hardly distinctive.  Its opposite side, though, being integrated into the canyon rim a mile above the bottom never ceases to bring awe.  The Union Pacific railroad built both lodges as a way to stimulate rail tourism.  The current lodge, the lodge Earl and Ethel would have experiened when the paint was still fresh was declared a National Historic Landmark in 1987 and is on the National Register of Historic Places.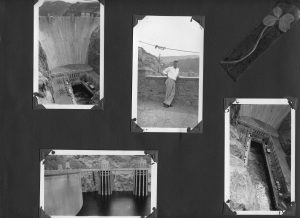 Hoover Dam was completed in 1936 a year before their arrival. Lake Mead was still filing behind the dam in 1937. The first three electrical generators came on-line in late 1936. One more came on-line in March 1937 and a fifth in August 1937.  The final generator did not come into service until 1961.