We left "at seven" from Oconto and headed for Waukegan IL
We stopped at the Waukegan Historical Society to see if they had information on where the County Clerks Office was located in 1937 for dispensing marriage licenses?  The building the Clerk currently occupies seems too new.  We were assured that it was the same building and location "then as now, only renovated."  We received a similar confirmation when we got to the Clerk's Office.  We took the following photo of the current county marriage requirements.  Apparently, a rule change has taken place that now requires getting a license at least one day in advance.  Earl and Ethel got their license and were married the same day!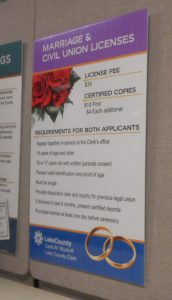 We headed then for the church we assumed their marriage took place at.  The ceremony was officiated by the Reverend August Bartz, pastor of the Immanuel Lutheran Church located at 100 Chapel Street.  The Lutheran congregation moved a number of years ago to another Waukegan area location and for the past 25 years the church has been the home of Latin Pentecostal Church of God.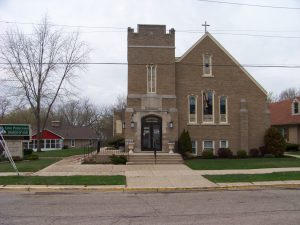 A month ago, we had contacted the Latin Pentecostal church officials about viewing the inside of the church and our reasons for doing so.  They were most gracious and accommodating hosts for our "out of the ordinary" request.  They said not much of the original layout nor stained glass windows were changed.  It was a moving experience and we were glad we did it.  A photo of the altar area follows along with Lynn and Carl enjoying the moment!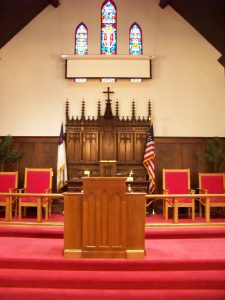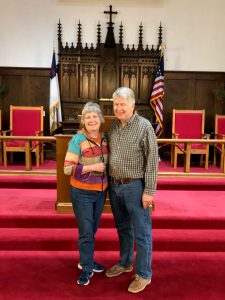 From the church we headed straight west to Rockford Illinois where Earl and Ethel likely spent their first night as newlyweds.